From waterfront trails and lighthouses to submarines and aerial treks, discover these things to do in Rimouski for your next visit.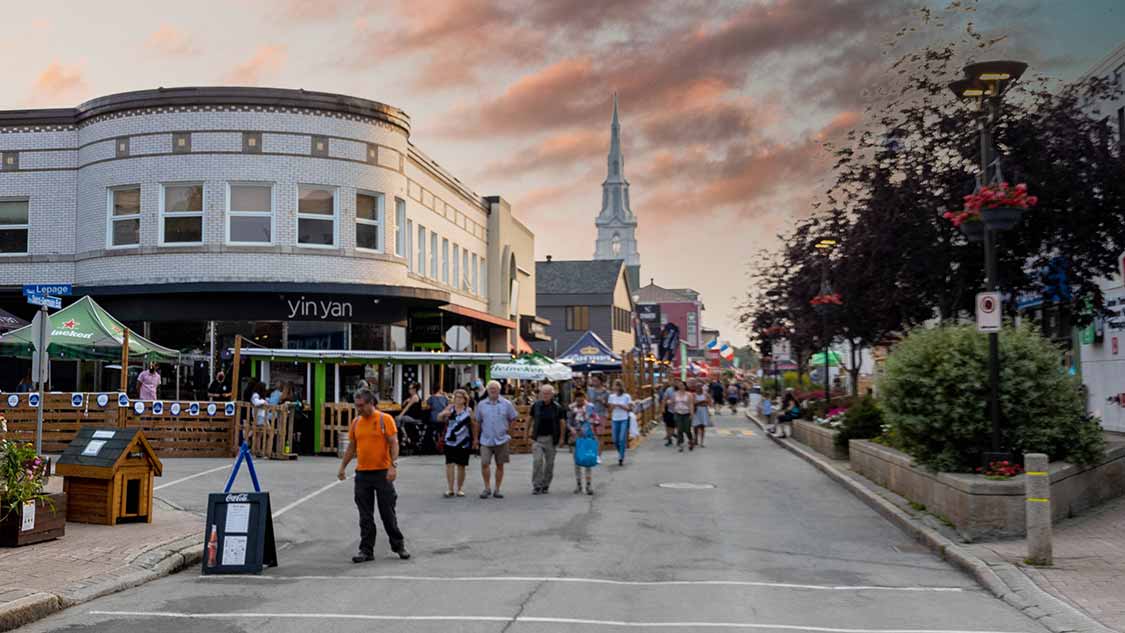 Travel in Quebec is one of my greatest pleasures as a Canadian. In fact, the Quebec Maritime region has consistently been a source for some of our greatest adventures in the country. So, when we had the chance to visit the city of Rimouski, Quebec on the shores of Bas St. Laurent, I knew that we would be in for something special.
And we weren't disappointed!
Although not a lot comes up when researching this beautiful area on the southern shores of the St. Lawrence River, it is shockingly packed with magical experiences.
We had completely missed out on our first chance to explore the best things to do in Rimouski, Quebec during an early drive from Quebec City up to the Gaspesie town of Perce after car trouble sidelined our trip.
But on our next visit, after spending a few days camping in beautiful Parc National de Lac Temiscouata, we finally had the chance to settle down and explore this incredible region of Quebec.
About Rimouski, Quebec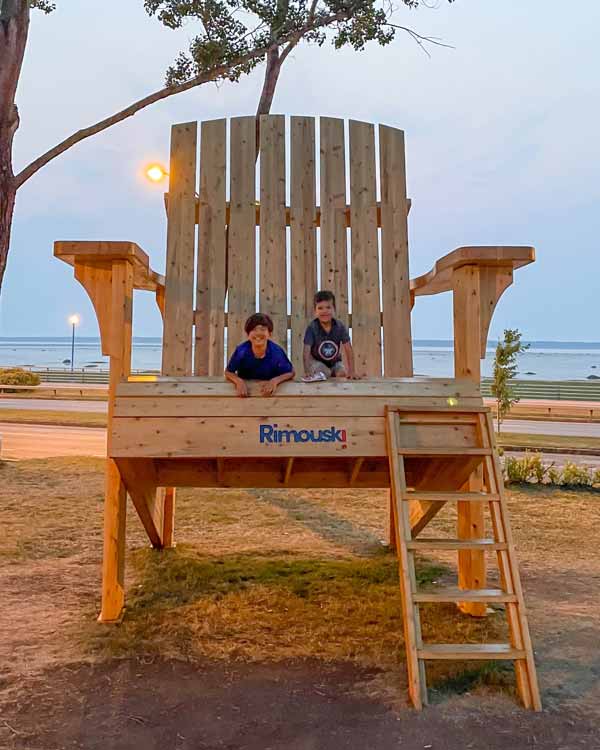 Situated on the rocky shores of the St. Lawrence River about halfway between Montreal and the Gulf of St. Lawrence, the city of Rimouski acts as an urban center for much of the rural area south of the river.
The city was established as a private town back in the 1700s. In fact, one of the original homesteads, the"Maison Lamontagne", was built way back in 1750. It's one of the oldest remaining buildings in all of the province of Quebec.
With its strategic position on the St. Lawrence River, it's no surprise that this city has a rich maritime heritage. The port of Rimouski dates back to 1900. It was originally intended to act as a hub for mail arriving on incoming ships. However these days it is still an important port for cargo, fishing, and popular whale-watching excursions.
From camping and hiking, history to culture, and some of the most scrumptious food south of the St. Lawrence River, there are more than enough things to do in Rimouski to keep even the most adventurous traveler satiated.
So hang on to your hats and let's explore Rimouski!
The Best Things To Do In Rimouski, Quebec
There is a huge range of Rimouski attractions that can satisfy just about anyone. And the never-ending stream of visitors that road trip along the southern banks of the St. Lawrence River always stop here to explore.
So if you're passing through or, if this is your final destination, here are our favorite things to do in Rimouski, Quebec,
Parc National Du Bic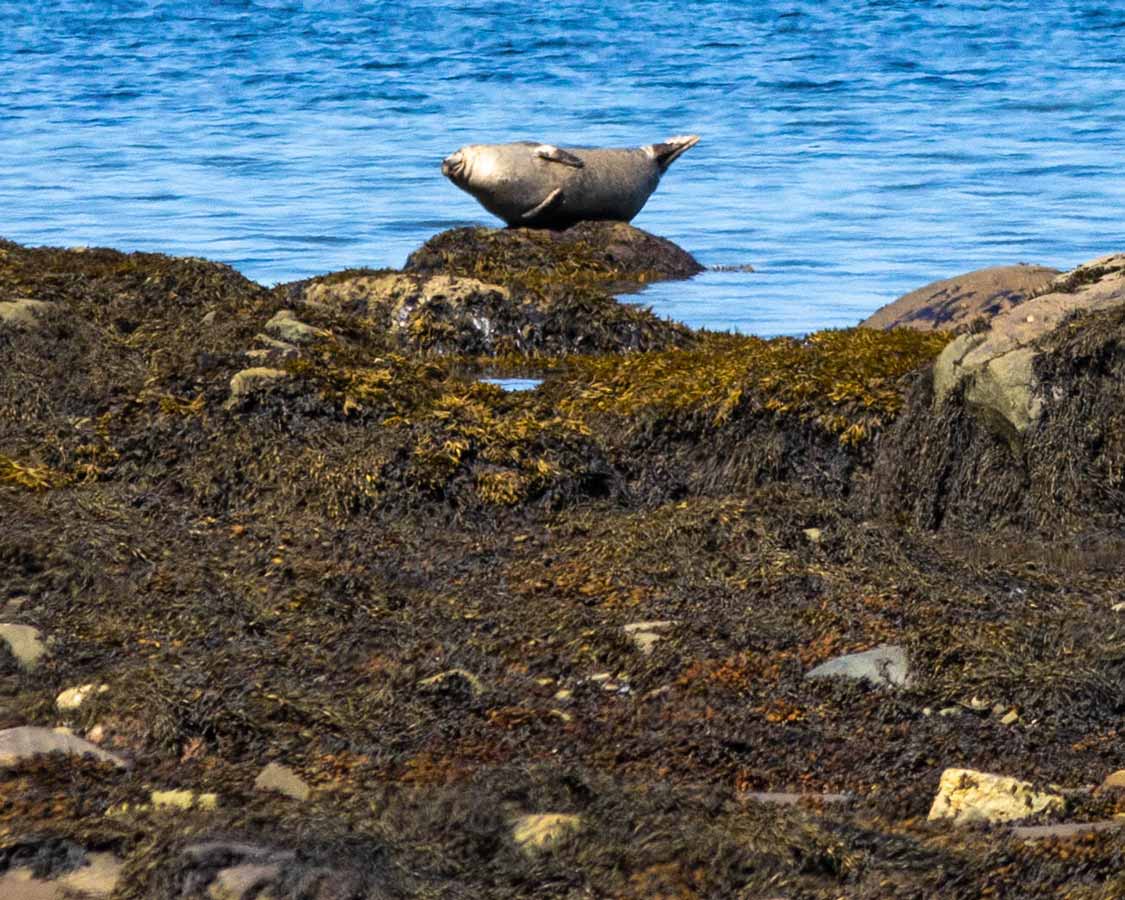 Boasting 238 campsites and magnificent views of the St. Lawrence River, Parc National Du Bic is one of the most spectacular landscapes along the southern shores of the Quebec Maritime region.
This sprawling park offers beautiful hiking trails that meander along the rocky waterfront. Some even offer trails out to nearby islands at low tide. There are also a number of historic buildings where you can learn about the historical and natural significance of the park and the wildlife within.
Make a visit to the shoreline to get a view of the resident seals who like to spend their mornings and afternoons relaxing in the sun on the rocks. Just make sure to follow the directions and don't approach the animals. They're protected.
You can also enjoy camping or the popular Sepaq ready-to-camp experiences that add some luxury to your Bic camping experience. The ready-to-camp experiences are open year-round too for those who love winter camping.
Pointe-au-Pere Lighthouse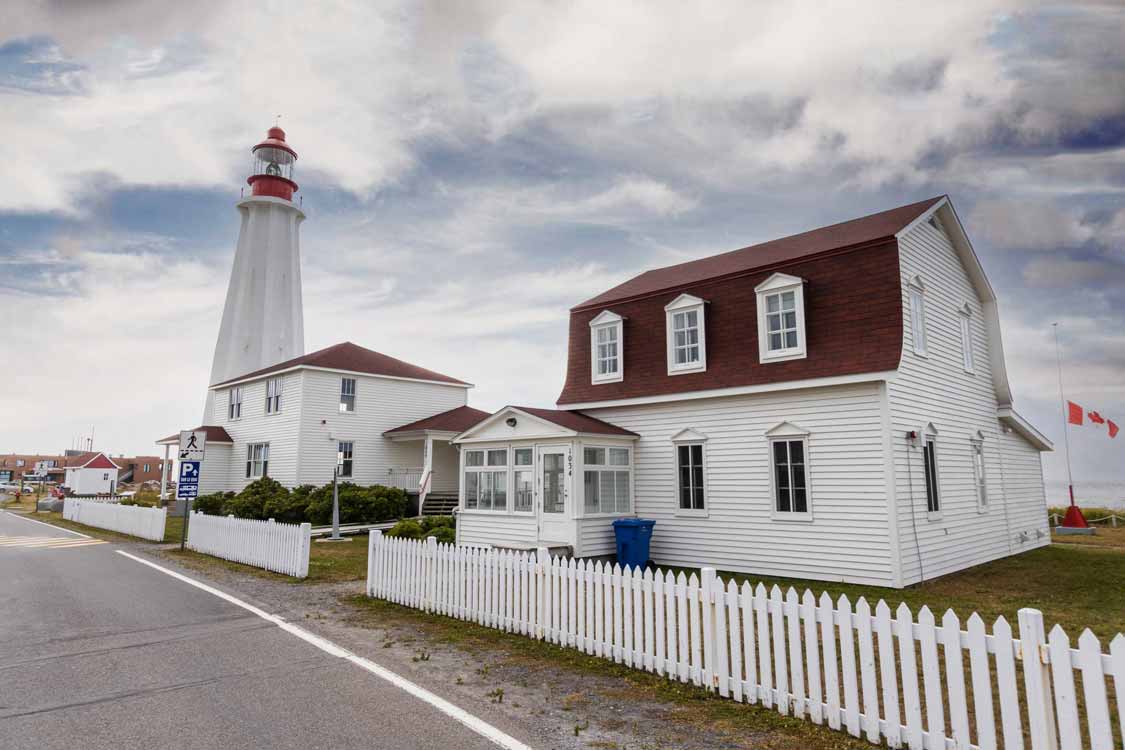 Erected in 1909, The Pointe-au-Pere lighthouse is the 2nd tallest lighthouse in Canada. And, with one of the most unique designs of all of the lighthouses in Quebec, Pointe-au-Pere Lighthouse should be on everyone's list of places to visit in Rimouski.
Visitors can wander outside the buildings of the lighthouse station including the keeper's house and the foghorn shed as well as the lighthouse itself. Pointe-au-Pere is also where you'll find the Empress of Ireland Museum and the Onandaga Submarine.
Onondaga Submarine and Empress of Ireland Museum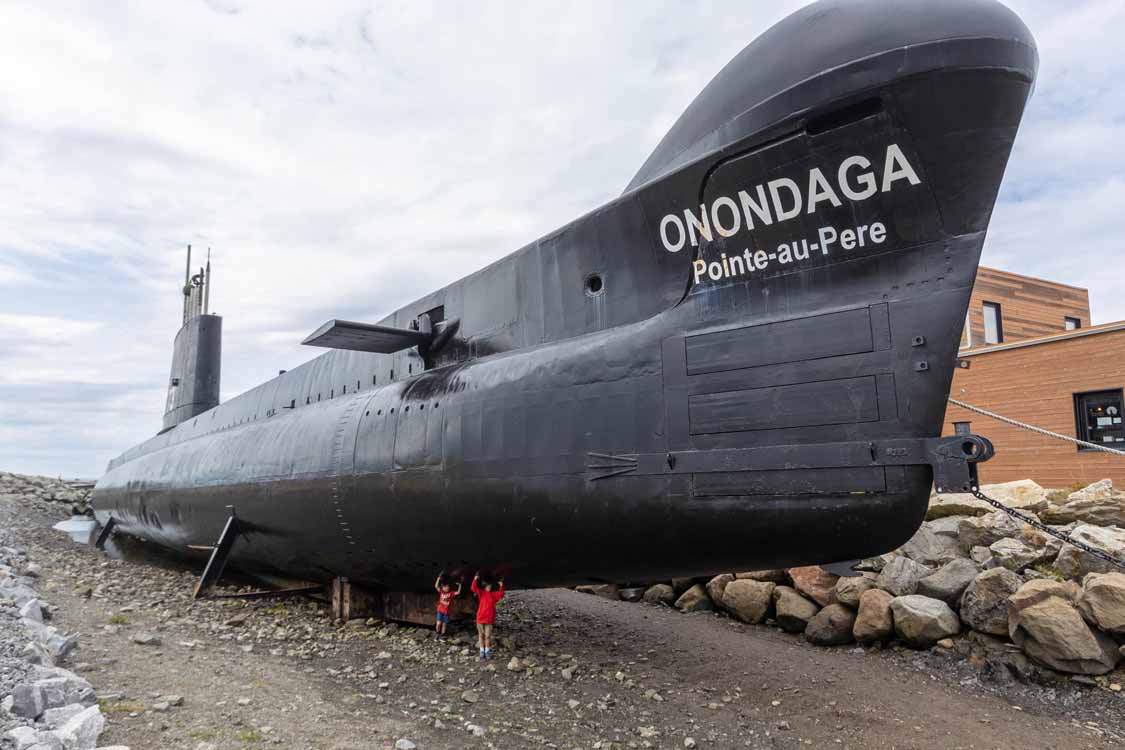 One of the most unique things to do in Rimouski is to take an audio tour through the world of underwater warfare on the Onandaga Submarine.
Not only is it a little mind-blowing to think that this small city in rural Quebec has a military submarine that you can actually wander through, but the story behind how the submarine got here is almost as cool as the sub itself.
When I told my kids about the Onandaga, they thought it would be a boat like the submarine tour in Lahaina, Maui that we enjoyed a few years ago. They weren't expecting something this massive with torpedo turrets and kitchens.
You can purchase a pass for just the Onandaga submarine, or you can combine it with a pass for the Empress of Ireland museum. This unique maritime museum takes you through the tragic maritime disaster of 1914 in which over 840 passengers perished.
You can learn about the disaster, the heroic rescuers, and see many of the artifacts which have been recovered from the wreck over the past century.
Patisseries & Gourmandises d'Olivier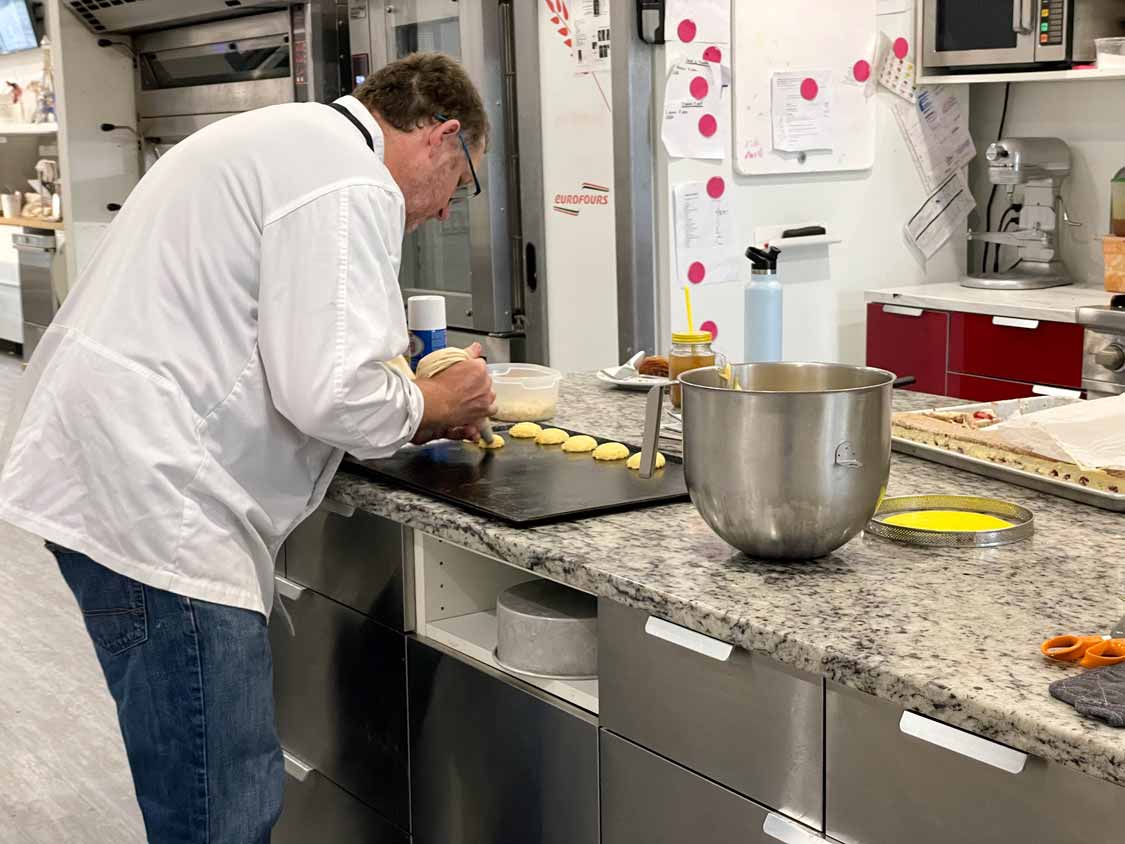 Normally I have an entire section of places to eat in all of the cities that my family visits. But Patisseries & Gourmandises d'Olivier is an experience as much as it is one of the best bakeries in Quebec.
Olivier himself is a world-renowned pastry artist who once worked as the resident pastry chef for the president of Brazil. After touring the world, he and his wife settled in Rimouski and began crafting unique flavors that have become beloved by both visitors and locals alike.
Made famous for their pure butter croissants, Patisseries & Gourmandises d'Olivier also offers a delightful range of sweets, bread, quiche, and macarons to tempt the senses.
Reford Garden/Jardins des Metis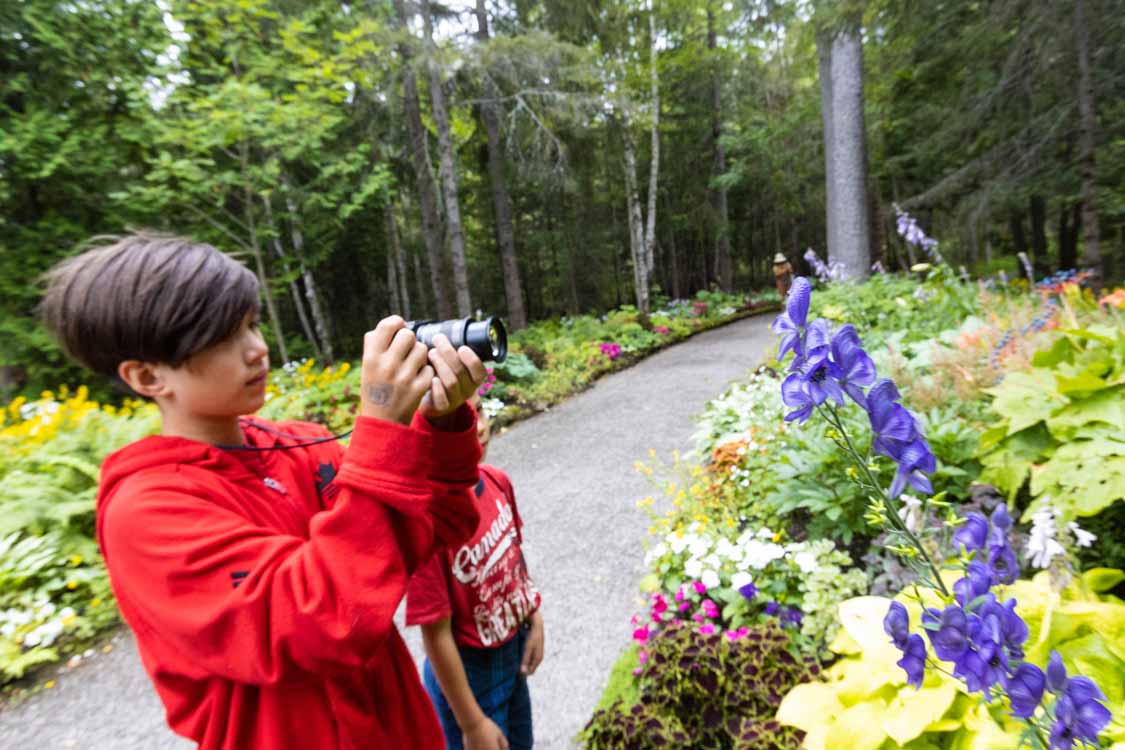 Created by famed socialite Elsie Reford between 1926 and 1958, Reford Garden, also known as Jardins des Metis is one of the most magnificent gardens in Canada.
The gardens were opened to the public in 1962 and designated a Canadian National Historic Site in 1995. And it's not difficult to understand why this property has received so much attention.
18 hectares of gardens are connected by winding paths and fed by babbling streams crisscrossed by idyllic stone bridges. All told, there are over 3,000 species of plants, some of which can be found nowhere else in Canada due to the unique microclimate on the property.
For a little history, make a stop at Reford Mansion where you can learn the story of Elsie Reford and her prominence in Quebec and Canadian society.
Art Route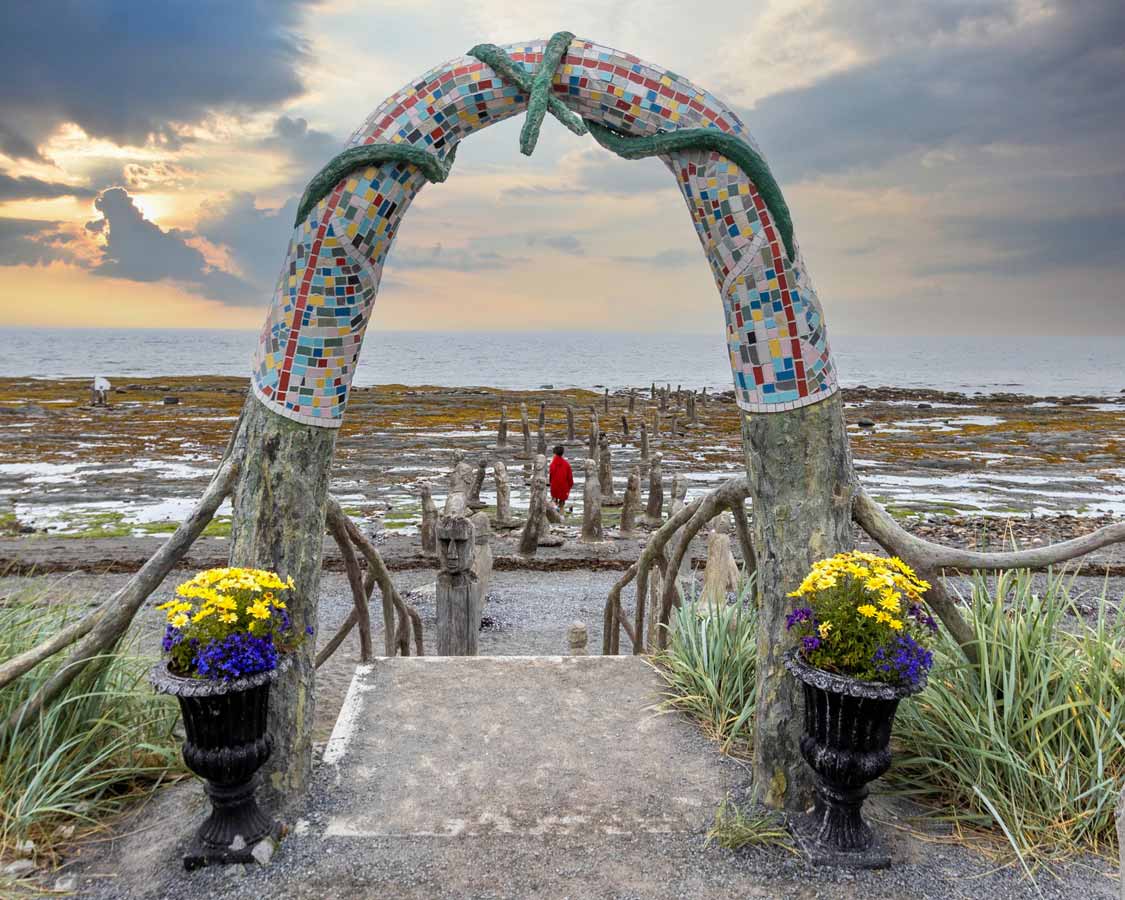 The art route is a fascinating and creative route along the St. Lawrence River that winds up from Rimouski to Pointe-au-Pere. The center of the action is the Centre d'Art Marcel Gagnon in nearby Sainte Flavie.
This combined hostel, restaurant, and art gallery is open seasonally from the beginning of June till the end of September. You can book a night (or more in their quaintly decorated rooms or just stop by to admire the creative wooden sculptures that take on new meaning with rise and fall of the tides.
Parc Beausejour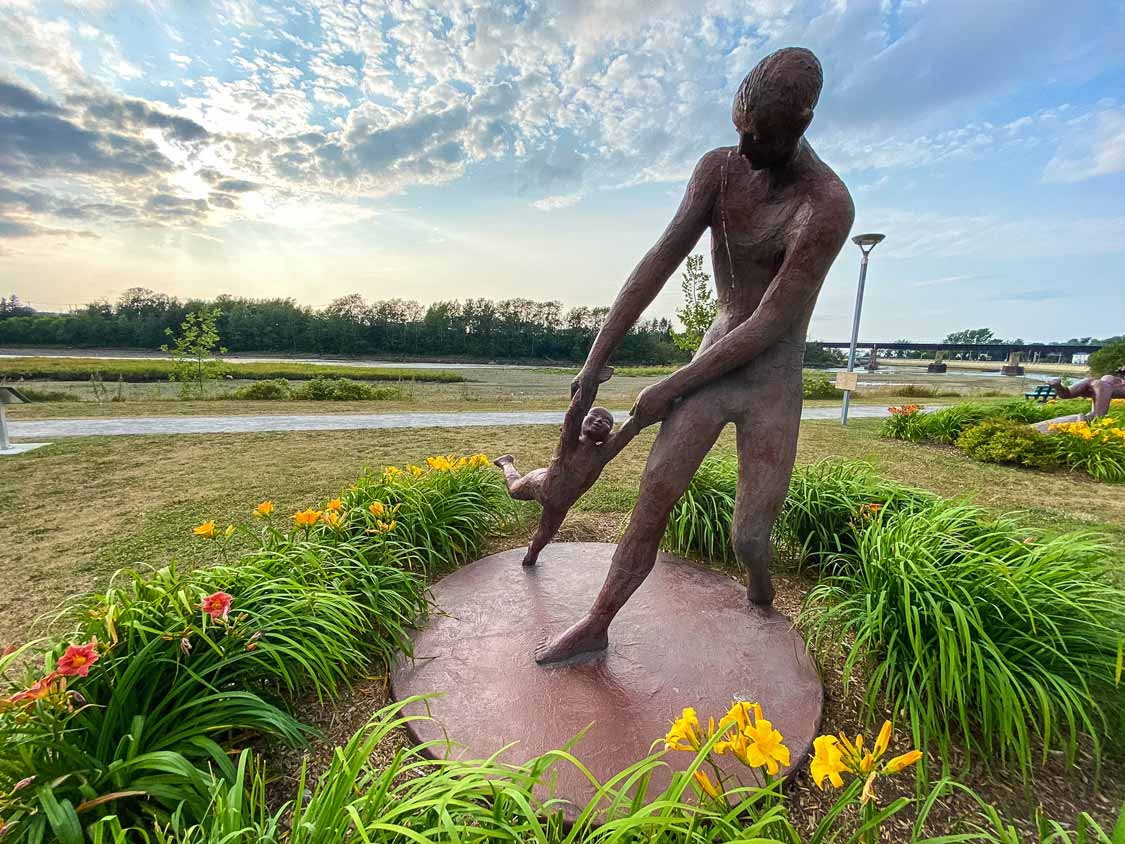 One of my absolute favorite things to see in Rimouski is the wonderful sculpture garden at Beausejour Park. While this park has a lot to offer including a large amphitheater that hosts popular shows and concerts during the summer, it's the sculptures that line the Rimouski River.
The sculptures are all themed around human relations. And wandering these wonderful pieces can invoke some powerful emotions. My hat is off to Quebecois artist Roger Langevin for his work.
Canyon des Portes de l'Enfer (Gates of Hell Canyon)
Its name might strike fear into the minds of visitors, but Canyon des Portes de l'Enfer or Gates of Hell' Canyon is one of the most incredible outdoor spaces in Rimouski.
The park contains nearly 21 km of hiking trails that wind through the forested landscape as well as the highest suspended footbridge in all of Quebec. The towering 63 meter-high bridge offers stunning views of the canyon and the surrounding landscape.
You can challenge yourself with the "Descent into Hell", a descent down 300 stairs leading down to the Rimouski River. You can also wander the Doors of Oniria interactive trail or take in the illuminated experience after dark.
Foret de Maitre Corbeau
Complete with the largest log home in Eastern Quebec, Domaine Valga is a wilderness getaway and adventure park that is perfect for families in Rimouski.
NEarby to the lodge is the Forest de Maitre Carbeau, an aerial park located in an old-growth forest with over 94 games and activities and over 5,500 ft of aerial trails that offer an exciting challenge for visitors of all ages.
Saint-Barnabe Island
Located within sight of the Rimouski waterfront, Saint Barnabe Island is a popular nature escape for locals and visitors to Rimouski.
Open from the beginning of June till Labour Day, Sainte-Barnabe Island has 25 campsites, hiking trails, and plenty of wilderness to explore. It's also a popular destination for birdwatchers as over 70 species make their way through the island each year.
Cycle The Watefront Trail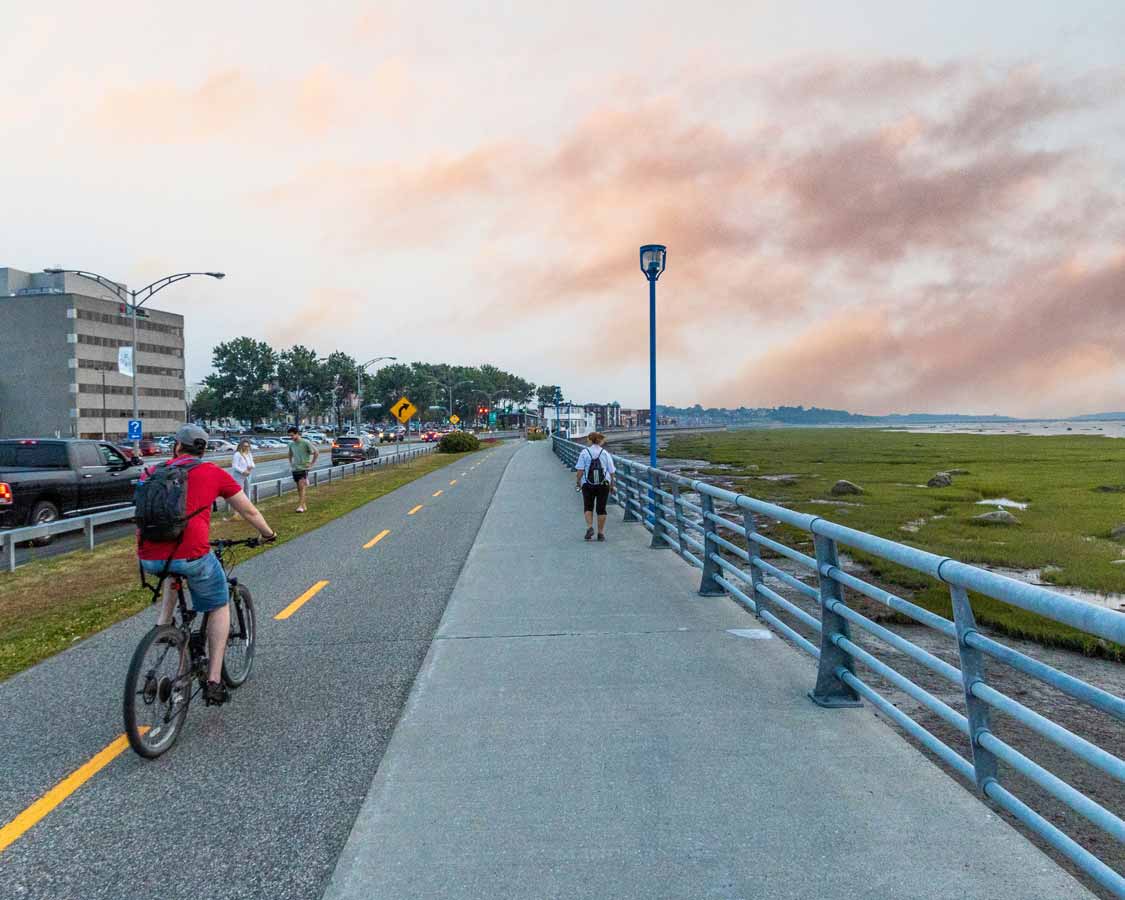 Cycling was a wonderful part of our visit to Quebec Maritime, it helped that I was training to cycle the St. Lawrence further down through the Thousand Islands.
There are countless bike trails in Rimouski, and all of them are beautiful. But among the most popular is the route that follows the St. Lawrence River through the heart of town.
You'll pass among many beautiful spots. And, if you make the ride at sunset, you can catch a glimpse of the magnificent colors of the Quebec skies.
Where To Eat In Rimouski
Looking for the best places to eat in Rimouski wasn't hard. This small city seems to be a maze of restaurants and dining experiences ranging from low-key cantina's offering overflowing seafood dishes to quaint local hotspots that you will want to visit time and time again.
The main street through downtown Rimouski shuts down each summer so that restaurants can take over the streets and fill their overflowing patios while live music and entertainment bring everything to life.
Cantine Ste-Flavie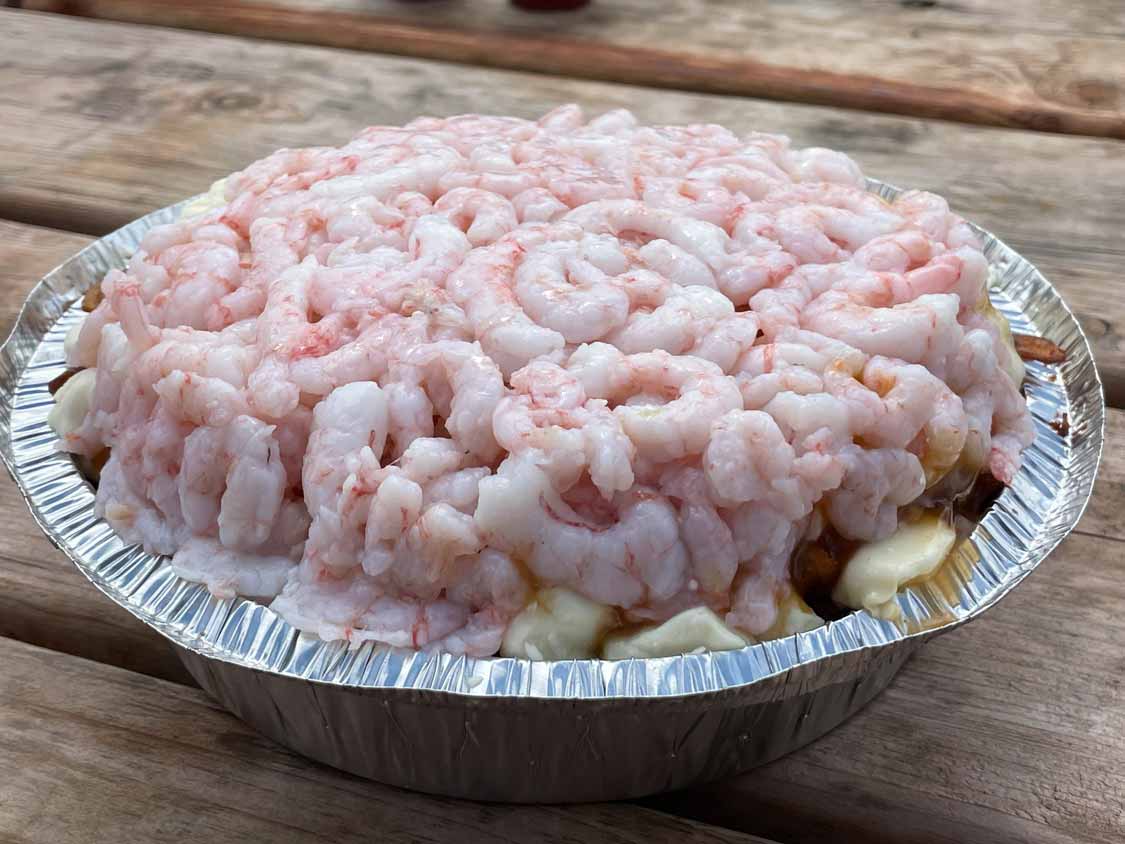 The tiny size of this roadside stand belies the epic portions of their seafood fusion cuisine. Line up (because the lineups here can be epic) and order poutine absolutely exploding with shrimp. Their famous lobster rolls are on-point but expect to share. Because these dishes are more than the average stomach can contain. You can check out their current offerings here.
Maison de Spaghetti Rimouski
When you're traveling with kids, spaghetti is always a safe option. But, Maison de Spaghetti Rimouski is more than your average spaghetti house. You'll find the typical epic portion sizes of Quebec here, but the real deal here is their oven-baked lasagna. With layer upon layer of gooey cheese wrapped in perfectly sauced noodles, you can't go wrong. You can check out their full menu here.
La Creme Folle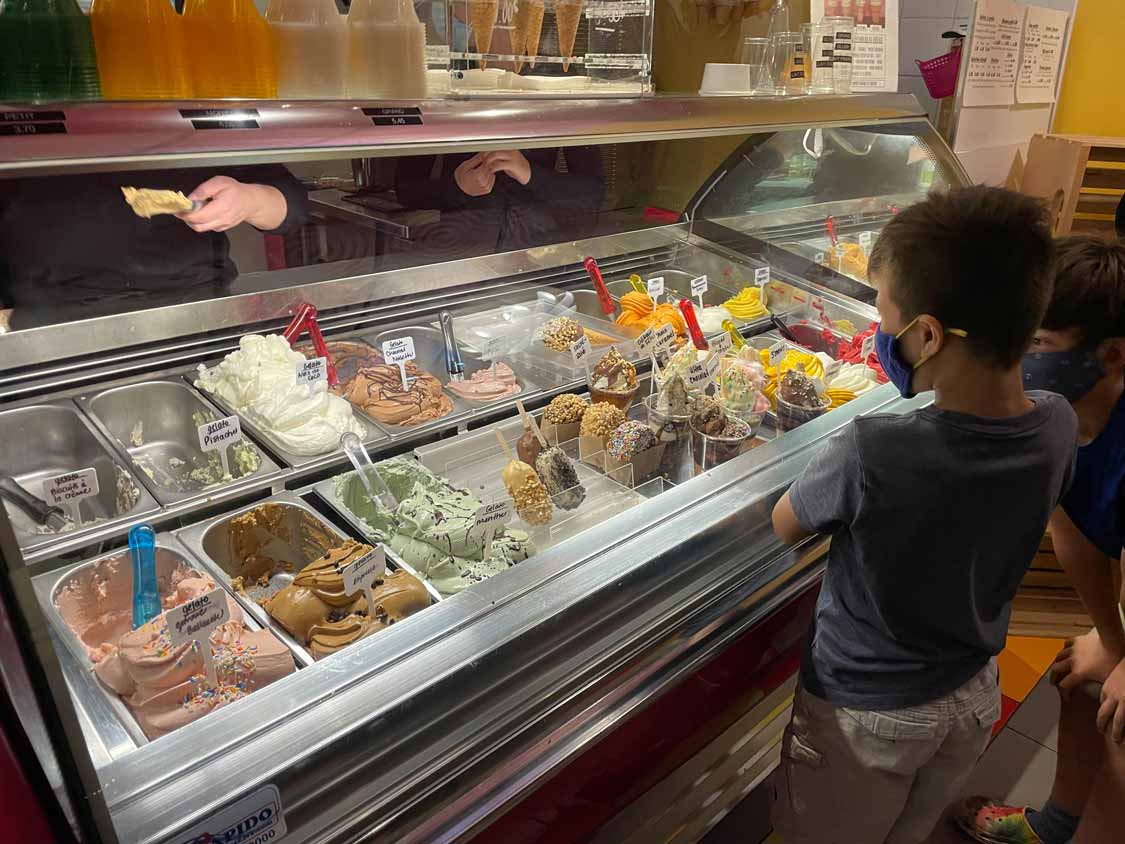 Located near Cathedral Sainte-Germaine, La Creme Folle may be the best ice cream shop in Rimouski. Not only do they serve up creamy gelato in a range of unique flavors, but you can order all sorts of creative mixes and toppings to truly make the experience perfect for you. You can connect with them here.
Rimouski Hotels: Where To Stay in the City
There are some truly wonderful hotels in Rimouski that are both well-setup and family-friendly. Although you'll find a wide selection of great Airbnbs, B&bs, and hotels in Rimouski, these are our top picks.
C Hotels Le Navigateur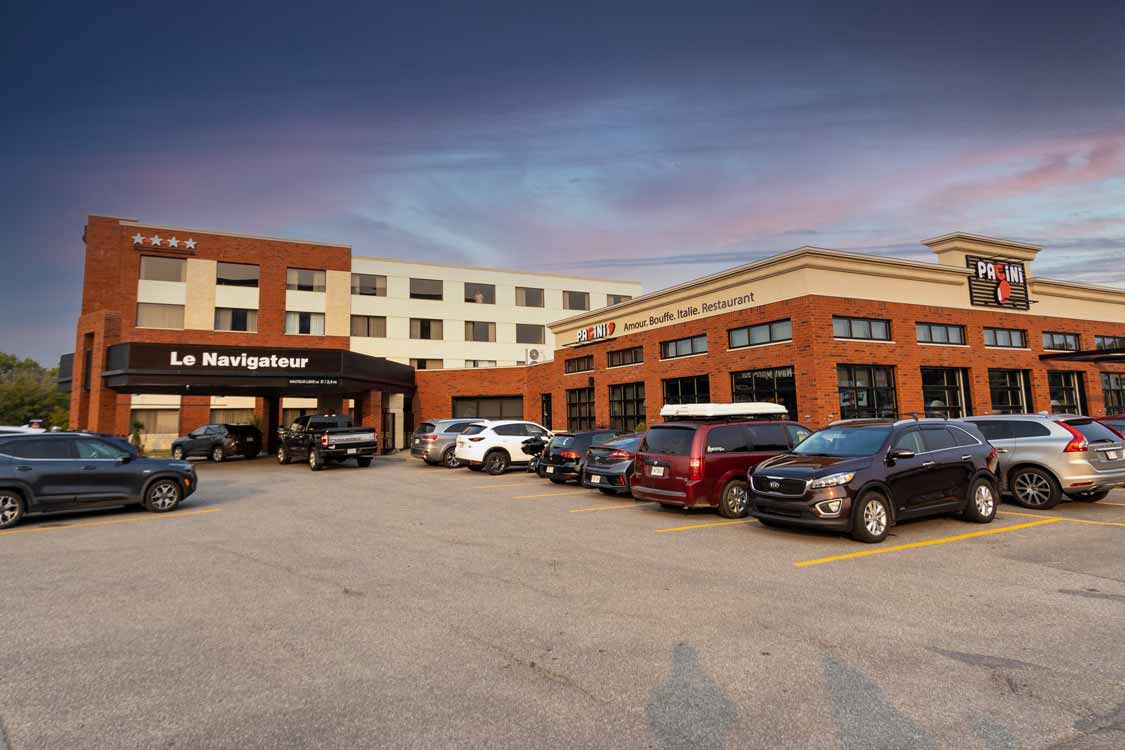 This was the hotel we stayed at during our most recent visit to Rimouski. The central location and fantastic layout of Le Navigateur hotel really fit our hopes of having a hotel that made the city easily walkable.
And with wonderful views of the river and easy access to the top Rimouski attractions, I would happily stay here again.
You can find their prices and availability here.
Hotel Rimouski
The Rimouski Hotel was our planned stop during our early, ill-fated drive up to Gaspesie. Although we didn't get a chance to stay there, we did stop in to have a look when we explored the city.
The Rimouski Hotel has an incredible location overlooking the river. And although it's a slightly longer walk to reach the main stretch of Rue St. Germaine, it still makes the city very walkable.
One bonus to Hotel Rimouski over Le Navigateur is that it has a pretty awesome pool with a great waterslide.
You can check out their prices and availability here.
Hotel St. Germaine Rimouski
Centrally located in Rimouski, Hotel St. Germaine Rimouski is one of the most popular places to stay in the city. The stylish, modern design of the rooms will help you feel right at home. And most of the best things to do in Rimouski are just a short walk away.
You can check out their prices and availability here.
Now It's Time To Explore These Things To Do In Rimouski, Quebec!
After exploring other beautiful Quebec towns along the St. Lawrence River such as Tadoussac, and Perce, I knew that a trip to Rimouski was going to be packed with excitement. But I wasn't prepared for just how epic the adventures were going to be.
Truly, Rimouski is a city worth exploring. Whether you're visiting with kids or on a road trip through Quebec, you're bound to have an incredible time.
And feel free to drop any questions or comments below. I always answer them.
If you're passionate about family travel, head on over to our Family Travel Support Group on Facebook. It's a fantastic community of parents who love travel. We share experiences, knowledge, and the lessons learned along the way. You can also sign up for our newsletter to keep in the loop about new family travel adventures.
Disclosure: Our visit to Rimouski, Quebec, was supported by Quebec Maritime Tourism. As always, all opinions remain our own. Wandering Wagars participates in the Amazon Services LLC Associates Program, an affiliate advertising program designed to provide a means for sites to earn advertising fees by advertising and linking to amazon.com, amazon.co.uk, amazon.ca. Amazon and the Amazon logo are trademarks of Amazon.com, Inc., or its affiliates.
You May Also Like To Read: